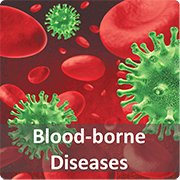 Germs can cause infection in human blood and diseases are known as
bloodborne
pathogens. A
blood-borne
disease is a disease that can be spread through contamination by blood and other body fluids.
Bloodborne
pathogens are microorganisms such as viruses or bacteria. The most common examples are HIV, hepatitis B and viral haemorrhagic fevers. These viruses cause infections and liver injury. This virus causes AIDS. Organisms such as bacteria, viruses, prions, and parasites will be transmitted through blood transfusions. Many
blood-borne
diseases can also be contracted by other means, including high-risk sexual
behaviour
or intravenous drug use.
Human Immunodeficiency Virus (HIV)